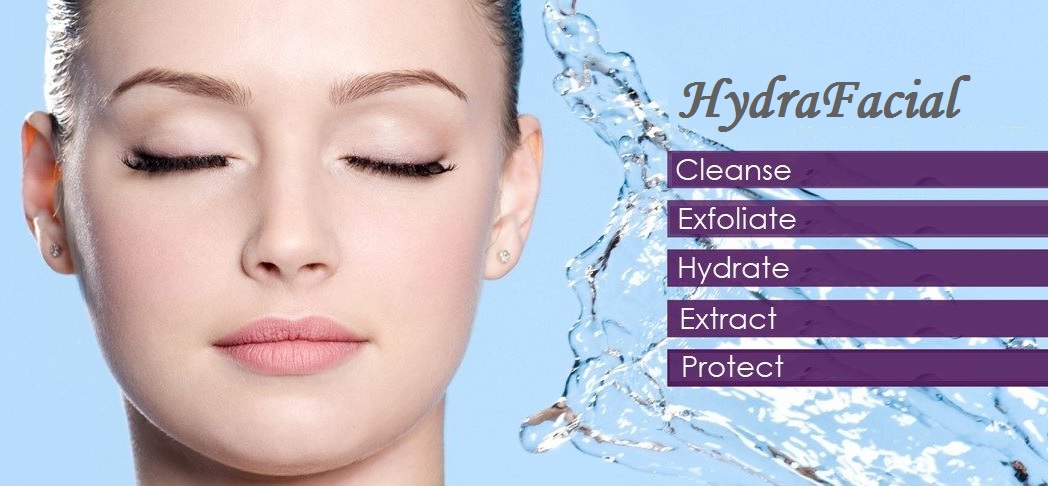 HydraFacial is for Everyone
How it Works
CLEANSE + PEEL
Uncover a new layer of skin with gentle
exfolation and relaxing resurfacing.
EXTRACT + HYDRATE
Remove debris from pores with painless suction.
Nourish with intense moisturizes that quench skin.
FUSE + PROTECT
Saturate the skin's surface with
antioxidants and peptides to
maximize your glow.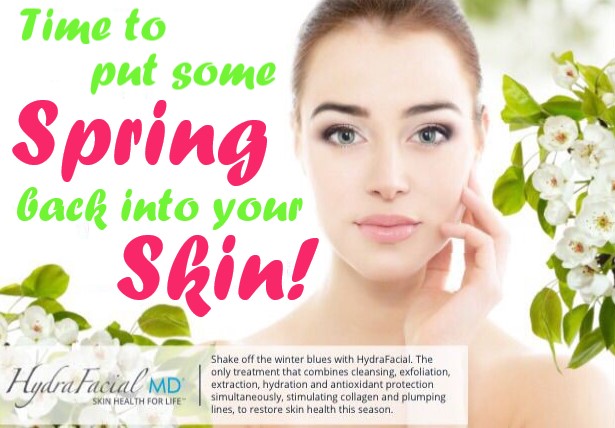 April Special
2 Signature Hydrafacial Only $250
2 Deluxe Hydrafacial Only $350

NOTHING COMPARES
Only HydraFacial uses patented
technology to cleanse, extract, and
hydrate. HydraFacial super serums
are made with nourishing
ingredients that create an instantly
gratifying glow.
We believe in no pain, and all gain.
So we make sure our customers
enjoy the experience and delight
in the results. We know clients
always want to be their best selves
and HydraFacial helps them get there.
SKINCONFIDENCE
It is our promise to you that
HydraFacial will not only improve
the look of your skin, but with
frequent treatments, with restore
skin health. It is our belief
beautiful skin instills a deep
confidence that amplifies inner beauty.
It is our mission to reveal the best skin of your life.
HydraFacial is performed every
15 seconds. Essentially amounts
to 2 million treatments given
globally last year alone. That's
more than total number of Botox
injections done in the U.S. in 2017
Signature Hydrafacial
This treatment deeply cleanses,
exfoliates, extracts, and hydrates
the skin utilizing super serums
filled with antioxidants, peptides
and hyaluronic acid.
Also includes Neck & Decollete Facial
ending with a mini Neck, Shoulder
and Scalp Massage
45 mins
Single $199 3 Treatments $525

Deluxe Custom Hydrafacial
An invigorating treatment that
includes all of the essentials of the
Signature Hydrafacial while
addressing your specific skin
concerns with an added Enhanced
Correcting Serum:
Restorative: Using Growth Factors
to help improve appearance of
skin tone, texture and elasticity.
Age-Refinement: Using
Dermabuilder to reduce the
appearance of fine lines and wrinkles.
Radiance: Using Britenol to
minimize the appearance
of dark spots.
Clarifying: Incudes extended
Extractions and Blue LED Photo
Light Therapy.
These treatments also concludes
with LED Photo Light Therapy
to further reduce the visible signs
of aging, stimulate collagen and
elastin fibers.
Also includes Neck & Decollete Facial
ending with a mini Neck, Shoulder
and Scalp Massage
60 mins
Single $275 3 Treatments $750

Platinum Custom Hydrafacial
Ultimate Hydrafacial experience!
Begin the detoxification process
with Lymphatic Drainage. Then,
the Signature Hydrafacial deeply
cleanses, exfoliates, extracts and
hydrates the skin while addressing
your specific skin concerns with
an added Enhanced Correcting
serum. This treatment concludes
with LED Photo Light Therapy to
further reduce the visible signs of
aging, stimulate collagen and
elastin fibers.
Also includes Neck & Decollete Facial
ending with a mini Neck, Shoulder
and Scalp Massage
75 mins
Single $325 3 Treatments $900

What is a HydraFacial?
HydraFacial is an invigorating
treatment that can be given in
as little as 30 minutes. It delivers
long-term skin health & can be
tailored to meet specific needs
of all skin types. It offers instant,
noticeable results with no
downtime or irritation. HydraFacial
treatments removes dead skin
cells & extracts impurities while
simultaneously bathing the new
skin with cleansing, hydrating &
moisturizing serums. The
treatment is hydrating, soothing,
refreshing, non-irritating &
immediately effective.
Why is HydraFacial good for my skin?
Hydration is the foundation of
healthy, radiant skin. Irritation of
the skin has been proven to
increase signs of aging.
What results may be expected?
How many treatments are needed
to see results? How long do the results last?
Many clients report seeing visible
skin refinement & an even,
radiant skin tone after just one
treatment. The smooth results and
hydration may last 5 to 7 days or
even longer. We don't believe in
quick fixes, so one treatment per
month is recommended for
improving the appearance of fine
lines, wrinkles, brown spots oily &
congested skin. Continued
HydraFacial treatments are highly
recommended to maintain skin health results.
Am I a candidate for this treatment?
The HydraFacial treatment is
designed for all skin types.
Even the most sensitive skin easily
tolerates the HydraFacial
treatment. We may choose specific
treatment serums and/or
customize the treatment for your
unique skin conditions and needs.